The Waikato farm, a model for riparian planting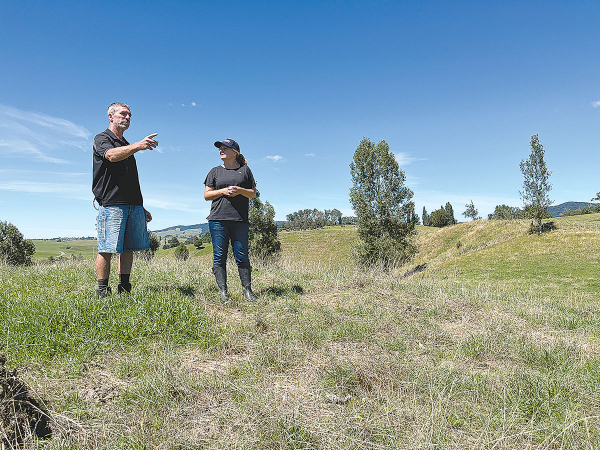 A Waikato dairy farm that started its first riparian planting project 20 years ago is now an example for rural land users, backed by science and smart long-term planning.
Grant Wills and Karo Preston operate "Tremeer", a 244 ha dairy farm in Walton in the Matamata-Piako district.
The farm has been in the family since 1931 and was originally a sheep and beef farm. Grant and Karo took over in the late 1980s and slowly moved into dairy products.
A 50-50 sharecropper now takes care of the 780 cows on the farm on the effective platform of 215 ha.
Grant and Karo began fencing waterways and shoreline plantings in 2002, just before grants for such projects became available.
"We have two main waterways through the property, so I divided them into five zones and came up with a plan to plant one zone each year.
"The riparian planting grants started in 2003 and we applied until 2008. After that, I didn't bother to apply because I could see the benefits from a farm management perspective. "
Fencing the slopes meant losing some of the grazing area, but this was offset by other benefits.
"Originally we had our fences near the streams, but where we had steep slopes we moved the fences up.
"We had lost about one or two cows a year that got bogged down in streams or fell down slopes, so moving the fences higher eliminated those issues."
Grant points out a steep riparian slope near a creek where there is a trial planting of rewarewa and other native bee-loving shrubs.
"So although we've fenced it in and it's no longer a dairy pasture, it can still provide a productive income for years to come."
They have also significantly widened riparian buffer zones in some places to absorb and protect subsided and eroded slopes, which will help prevent this material from flowing down streams.
"We tested the water where it enters the property and where it exits, and it shows that the water quality has improved on our farm.
Riparian species now line the waterways that cross the property as part of a planting program that began about 20 years ago. Photo credit: NIWA/Stuart Mackay.
Grant and Karo won the top prize at the 2013 Waikato Ballance Farm Environment Awards, part of which recognized their efforts to improve water quality.
In recent years, the couple have worked with NIWA to better understand the performance of their riparian plants and advise on future projects.
Fleur Matheson is the manager of NIWA's Mitigation Systems program, which includes research on riparian buffers.
She said science has advanced our understanding of how riparian buffers can make a positive difference.
"A grass pad will be the best way to trap sediment in runoff, and a pad with trees and shrubs will be best at removing dissolved nutrients from shallow groundwater.
"Including small wetlands or wetlands in a riparian buffer zone to protect them will also help with nitrate removal."
Fleur said the best riparian buffers will be those that combine a grass buffer at the edge of the field with trees and shrubs closer to the stream and flex sedges on the edges of the stream.
"This is the basic design that we recommend to farmers. We believe that a buffer width of approximately 10% of the length of the slope draining to the creek channel is ideal.
"On average, we expect this to trap about 75% of the sediment in the runoff and also trap the nitrogen and phosphorus that it has bound in that sediment."
Riparian buffer zones also have an important role to play in climate change.
Trees and shrubs store significant amounts of carbon as they grow by removing carbon dioxide, a greenhouse gas, from the air.
"Our best estimate at this time is that a one hectare riparian buffer planted in actively growing native shrubs and trees may be able to sequester up to about 5 tonnes of carbon dioxide equivalent per year."
Grant said it was easy to make a farm management decision when backed by science.
"Since NIWA has the science behind it, to support these kinds of projects, then I have full confidence that it will be good for the environment and for the farm."